About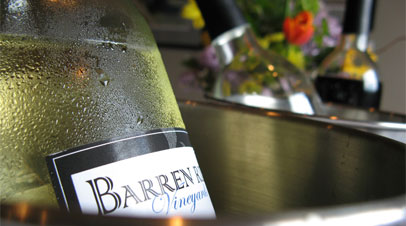 Located on the Higgs family's former apple orchard, Barren Ridge Vineyards is now home to Augusta County's premier winery. John and Shelby Higgs cleared the overgrown land and planted it with grapevines that now produce award-winning wines.
They also converted their 1890′s apple barn into a state-of-the-art winery, preserving the original structure and wood beams. The Tasting Room features carefully handcrafted wines that are available daily for tastings.
The winery is open seven days a week for complimentary tours, and the patio is always ready for picnics and sunset-viewing.
Meet Our Owners
History
After many years of living abroad, John and Shelby Higgs decided it was time to come home to the Shenandoah Valley. Growing up on the apple orchard that his father purchased in 1934, John dreamed of faraway places, but as his own children grew and his family's farm became overgrown with weeds, John began to think of returning home. Living in Switzerland exposed John and Shelby to European wines and the centuries-old traditions of grape growing and winemaking. Eventually, John and Shelby came home to pursue a dream born of their desire both to revive the land of John's childhood and also to contribute to the growth of Virginia's flourishing wine industry.
In 2007 the Higgs gathered dozens of friends to plant over an acre of European Vinifera vines on the sloping hills of the family farm. John and Shelby hired local contractors to renovate the apple barn and add a wing for winery production. For their first vintage John and Shelby purchased grapes from neighboring Virginia vineyards - Viognier, Traminette, Vidal Blanc, Touriga, Merlot, Petit Verdot, and Cabernet Franc. In the spring of 2008, the Higgs bottled Viognier, Vidal Blanc, Traminette, Touriga, and a Rosé. That same spring John and Shelby planted more vines and added another 164 vines of Touriga in the spring of 2012.
Barren Ridge Vineyards is now home to fourteen different varietals of wine, many of them award winning, including a Gold Medal/Best in Show 2008 Meritage. John and Shelby's dream has come to life in the form of a bustling, friendly, and inviting space known as the Barren Ridge Vineyards Tasting Room. We invite you to visit and take in the breathtaking vistas, warm hospitality, and of course your very own glass of wine. Cheers!