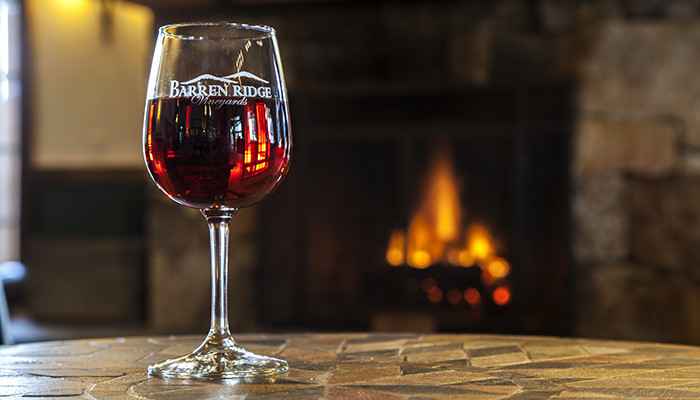 Step into the Higgs' transformed apple packaging barn, for one of our wine tastings.  With the original ceiling from the 1890's and a bar that was constructed from reclaimed wood from the barn.  Our wines rotate on a bi-weekly basis and the current wines being tasted will be featured below.  Along with wines, Barren Ridge offers a number of cheeses, spreads, sausages, crackers, and jams that all pair well with our wines.  Additionally you are also welcome to bring your own food to enjoy at the venue.
Reserve Tasting – $8 per person for individuals and groups less than eight
Our reserve tasting includes a flight of eight wines (four whites and four reds). Every two weeks the list changes, so visit us often in order to try all of our wines.
Red or White Tasting – $5 per person
If you know you prefer whites or reds, try just a flight of four from our Reserve Tasting list.
Group Tastings - Price varies based on size

Between 8 - 25 people $10 per person.  Groups over 25 people $15 per person.  If you are coming with a larger group (greater than 6), especially on a weekend, please let us know so that we can have the staff and space to accommodate your party.  We try to give all customer groups an excellent experience and it can be difficult to do this for large parties without preparation, especially during high traffic times.
Private Tastings 
Please call us at 540-248-3300 and ask to speak with Shelby in order to arrange a private tasting for your group.