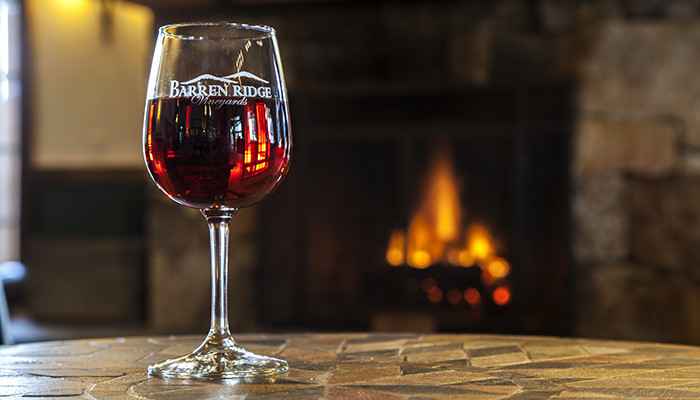 Step into John and Shelby Higgs' transformed apple packing barn for one of our wine tastings. The cozy, rustic tasting room features a beautiful ceiling and bar made of reclaimed wood from the original barn, as well as a large stone wood-burning fireplace. The wines on our tasting list rotate with availability, but the menu will always feature a diverse selection of whites and reds, both dry and sweet. The Barren Ridge tasting room also offers a selection of cheeses, spreads, sausages, crackers, and jams that would complement any of our wines.  You are also welcome to bring your own food to enjoy in the tasting room or on the patio.
Reserve Tasting – $8 per person (for groups of fewer than 8)
Our reserve tasting includes a 1/2 ounce pour of each of eight wines (four whites and four reds). In general, six of the wines are dry and two are semi-sweet.
Red or White Tasting – $5 per person
If you know you prefer whites or reds, try just a flight of four from our Reserve Tasting list.
Group Tastings – Price varies based on size

8-12 tasters: $10 per person
12-24 tasters: $12 per person
25+ tasters: $15 per person
For groups of 8 or more tasters, especially on a weekend, please let us know in advance so that we can be sure that we will have the staff and space to accommodate your party. We try to give all of our guests an excellent experience, so please schedule your tasting with us in order to ensure the best possible service. You may call us at 540-248-3300 or e-mail events@barrenridgevineyards.com to arrange a tasting for your group.