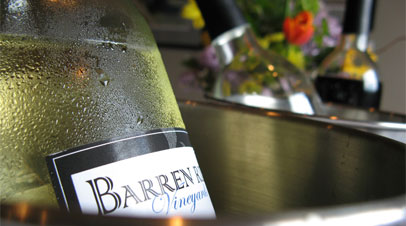 Below our some questions that are regularly associated with our private events and more specifically our weddings.  If you have further questions about either of these, please just go ahead and e-mail [email protected].  If you have special circumstances regarding any of these questions, we would be happy to do our best and work with you on them.  We are always looking to make every event held at our facility a special and memorable one.
May we bring outside wines to the event?
Only Barren Ridge Vineyards wines may be served at your event and can be purchased at a discount.
What about beer and liquor?
Bottled beer and liquor may be served if the caterer provides an ABC license.
How early may guests arrive?
Unless arranged ahead of time, the Tasting Room cannot be turned over for a private event until 6 pm, while the Audrey Blackford Room is available from 7 am – midnight.  For Weddings, we allow the Tasting Room to be turned over at 4 pm.
How early may the caterer arrive?
Caterers will have access to the kitchen during business hours the day of the event.
When does the tent need to be removed?
Tents and other rentals must be removed the day following the event.
When does clean-up need to be finished?
Clean-up should be completed when the last guest leaves at 11:30 pm.  We are able to hold some small items for the removal next day, though we can not guarantee them.
How late may we stay?
All guests must exit the facility by midnight; by law, music must end by 11:30 pm inside and 10:30 pm outside.  We ask that you be prompt about leaving so that we may put away chairs and tables and start cleaning the room.