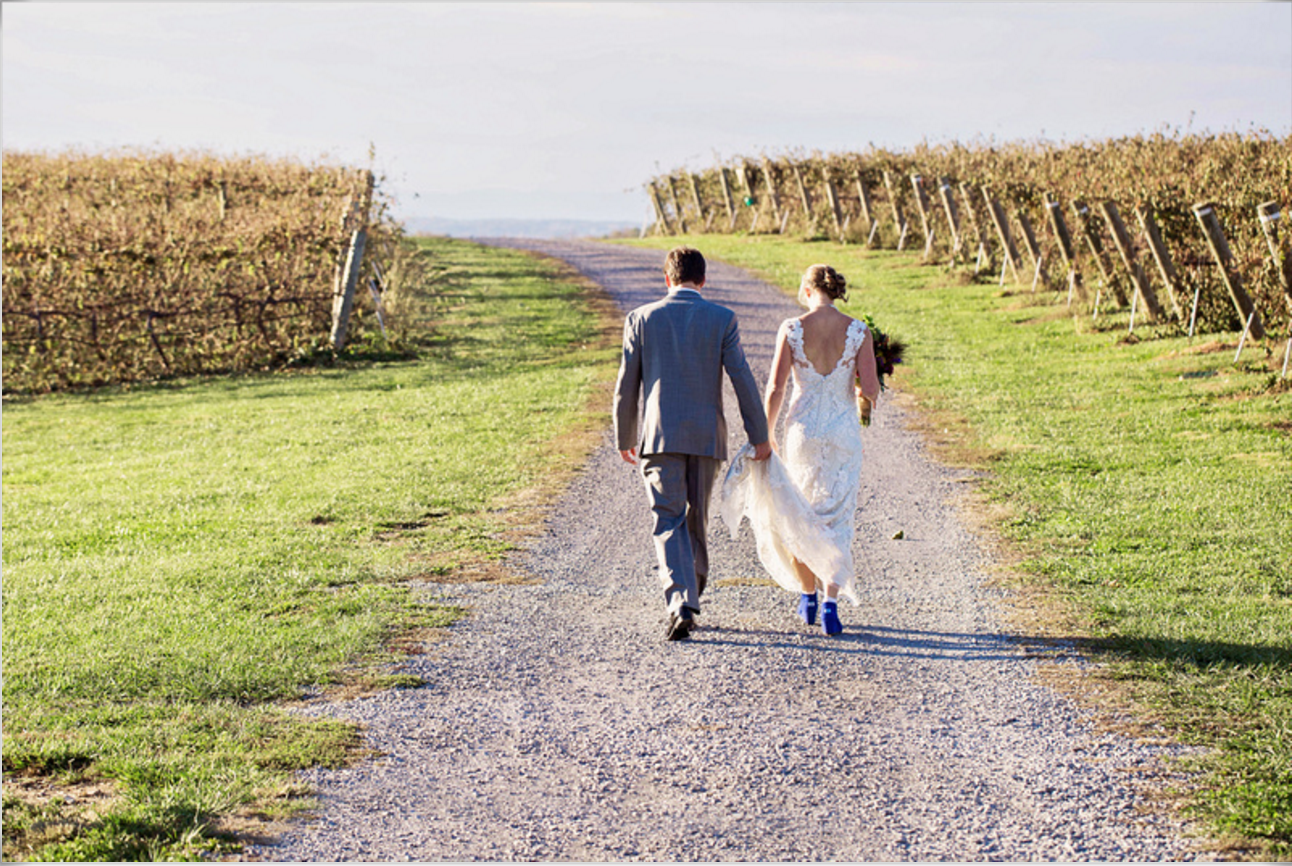 Information on Weddings at Barren Ridge Vineyards
Clearing the land, planting and tending the vines, and transforming the packing shed into a state-of-the-art winery has been a labor of love for the Higgs family. Part of their vision was to see other families celebrate the special occasions, weddings, and milestones of their lives at Barren Ridge, and they created event spaces with warmth, elegance, rustic beauty, and Southern hospitality in mind, surrounded by a backdrop of spectacular views. Convenient to Staunton, Waynesboro, Harrisonburg, and Charlottesville, Barren Ridge Vineyards offers an ideal venue for your celebration, with its friendly and knowledgeable staff, award-winning wines, breath-taking landscape, versatile event spaces, and gracious ambiance.
Barren Ridge Vineyards hosts weddings year round.  We have a number of beautiful sites both for your ceremony and reception that will make your day unique.  To guarantee a special and care-free day, Barren Ridge only books one event per day making sure that your event gets our full attention. We are an authentic space and we allow your authenticity to shine through.  While we are happy to give suggestions for caterers, rental companies, musicians and decorators, Barren Ridge encourages our guests to take an individual approach and will be happy to work with any vendors that they have in mind.  Our fees include use of not just our spaces, but also our tables, chairs, and stemware.  Have your wedding feature the beautiful colors of the vineyard, in every season, a magnificent view of the Blue Ridge and Allegheny Mountains, and the authentic transformed apple packaging barn transformed by the Higgs family.
More information can be found on our weddings facilities page and additional images of the property can be found in the galleries.
Contact Us
For more information on planning a wedding or special event, please e-mail us at [email protected] or call us at 540-248-3300 and ask to speak with Shelby.