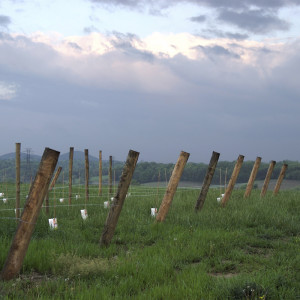 John and Shelby Higgs began their journey towards cultivating and bottling Shenandoah Valley wines in 2004. The land where Barren Ridge Vineyards now stands was once St. James Orchard, previously owned by John's father, James Albert Higgs. Keeping the land's heritage and history in mind, John and Shelby transformed their former apple orchard into the first vineyard and winery in Augusta County, Virginia.
"Wine makes daily living easier, less hurried, with fewer tensions and more tolerance." -Benjamin Franklin
Barren Ridge Vineyards is located on a high ridge in Virginia's Shenandoah Valley, cradled between the Blue Ridge and Allegheny Mountains. Warm dry days and cool nights promote ripening of the grapes while maintaining the fruit's essential flavors and aromas from vine to bottle.
The Shenandoah Valley is considered a semi-arid climate due to its close proximity to two mountain ranges. At 1400 feet, Barren Ridge Vineyards derives its name from the unusual weather pattern which directs rain clouds away from the ridge. These effects coupled with the near constant breeze helps to provide an optimum growing environment for grapes.
Now with eight acres of various grape varieties producing in our vineyards, and a production volume of 5,000 cases, Barren Ridge Vineyards is starting to show its potential as a grape location.  Grape varieties grown here include Petit Verdot, Merlot, Traminette, Vidal Blanc, Viognier, Chambourcin and Touriga.  As of 2016, John and Shelby are looking to plant an additional acre of Cabernet Franc and Chambourcin at Barren Ridge.  The limestone soil coupled with the good elevation allows for the grape to maintain acid and elegance even the driest years, while allowing for good drainage, during wetter harvests.
Barren Ridge is pleased to be leasing a three acre vineyard site composed mostly of Chardonnay, but also growing both Cabernet Franc and Riesling in Mt. Crawford.  Led by our vineyard manager Mark McCune, we are always surprised by how exceptional our grape harvests look and look forward to many great harvests to come.