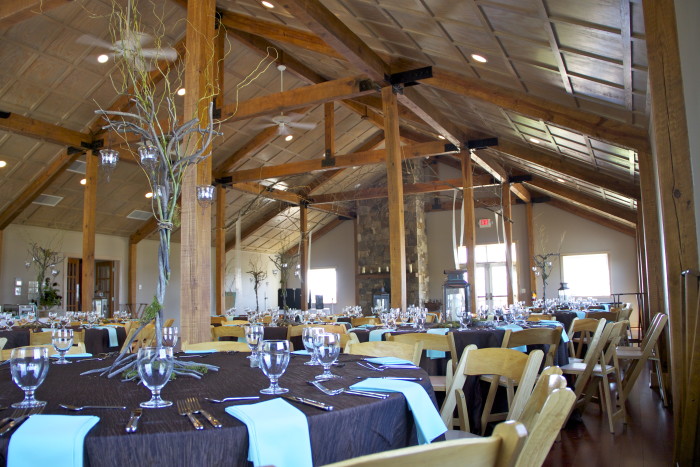 With an atmosphere of understated, rustic elegance combined with beautiful views and award-winning wines, Barren Ridge Vineyards offers an ideal space for community, corporate, and private events.
Intimate parties (20 or fewer) are best accommodated in the tasting room, which is available for rental after 6 p.m. on Sundays, Mondays, Tuesdays, and Wednesdays. When the weather is nice, tasting room rentals include the patio, accessible via French doors leading from the tasting room. This rental option also includes the use of our tasting room's bar and two large stone wood-burning fireplaces–one in the tasting room and one on the patio. The patio's furniture seats up to 32, but additional seating may be available upon request.
Larger parties may opt for renting the Audrey Blackford Room, on the second floor of the winery, which accommodates up to 150 for a seated dinner, or up to 200 for a less formal, cocktail-style event. The Audrey Blackford Room, pictured above, includes tables and chairs for up to 150, access to the room's large stone wood-burning fireplace, and the use of a catering kitchen just a short step down the hall from the event space. The room is accessible via stairs or elevator, and has French doors that open onto a west-facing balcony overlooking the vineyard, with stairs leading down to the patio. The Audrey Blackford Room is available for rental any day of the week.
Regardless of the space you choose to rent, Barren Ridge offers a number of features to make your event more convenient. Restrooms, all of them handicap-accessible, are located both upstairs and downstairs. The entire building is air-conditioned and has a heated floor system. There is an integrated and zoned sound system, which allows for different inputs to be used in different spaces of the facility. A wireless microphone may be used to communicate with conference guests, while the patio and tasting room can have ambient music. While Barren Ridge does have Sirius radio available, there is also a 3.5mm jack hookup, which allows our guests to make their own playlists from laptops, tablets or smartphones to run through the building's sound system and Bose speakers.
If needed, Barren Ridge can provide a projector and screen for a presentation.
For questions on pricing and availability please contact our owner, Shelby Higgs, at shelbyhiggs@barrenridgevineyards.com or by phone at 540-248-3300.