The evening begins at 6pm on Saturday, January 30th, come and experience the warmth and celebration of our Annual Swedish Fire Festival!
The night starts with coming in from the cold to be greeted with a glass of wine to pair with Swiss Raclette Cheese in the tasting room.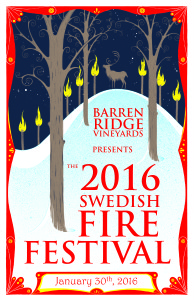 Chef Mike Lund (http://mikelundfood.com/) has prepared a Scandanavian inspired menu with local flare, to be served in the Audrey Blackford Room; table reservations for dinner are available for groups of 8 or more.
After dinner, join us on our enclosed patio to listen to Swiss alpenhorn music under the stars, while watching the lights of the Swedish fire logs.  Additional entertainment will be provided by the dance troupe, The Nordic Dancers and fiddle star Paul Carlson.  Enjoy a glass of mulled wine after dinner to stay warm!
Reservations can be made by phone or in person at Barren Ridge Vineyards.  Tickets for the evening are $85 per person; they include food, wine, and entertainment, and make perfect holiday gifts.  Additionally, hotel packages are available with the Stonewall Jackson Hotel (www.stonewalljacksonhotel.com).  We ask that all attendees be 21 or older.
John, Shelby, Rascal, and all the Barren Ridge team look forward to seeing you there! Feel free to call or email [email protected] for additional information.